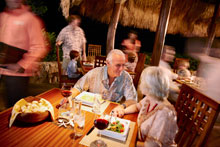 Looking for a spot to share a cocktail, or maybe some light fare?  The 'Olelo Room will fit the bill. 
Open daily, the 'Olelo Room serves continental breakfast from 6:00 to 10:00 a.m. and traditional afternoon tea from 2:00 to 5:00 p.m.  The lounge is open throughout the day, from 11:00 a.m. to 11:00 p.m., and serves a light lounge menu inspired by local flavors, as well as your favorite cocktails and other beverages. 
Celebrate friendships and family time, and take time to unwind, in this special place.  Located on the lower level of the Main Building, adjacent to Makahiki Buffet.